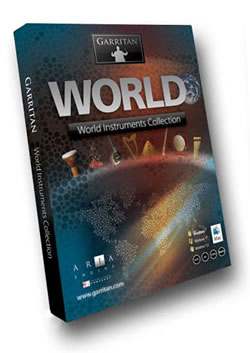 Garritan World Instruments is a new collection of over 350 expressive and exotic instruments from around the world. The world has such a beautiful and rich music heritage expressed through a myriad of diverse instruments. Here is a world of instruments waiting for you to explore and take your music in new and exciting directions.
ARIA Advanced Instrument Player - Designed for Compatibility
World Instruments now includes the advanced new ARIA engine. There is no need to purchase a separate sampler. This highly-optimized sample player is efficient, fast loading, and has a low CPU demand. ARIA supports Mac (OS 10.5 and higher) and Windows (XP & higher). It runs standalone, as a plug-in (VST, Audio Units, RTAS), and with supported notation programs. Iti s compatible with 32-bit and 64-bit systems and powered with Conexant's Endless Wave streaming technology.
Ensemble & Group Presets
Access various ensembles and groupings, from traditional Chinese orchestras, Gamelan ensembles, Taiko groups, drumming circles to eclectic Bollywood bands, folk bands, or create any group of your choosing. The Ensemble Manager makes it easy to load pre-configured and user-created templates.
Intuitive Controls
The Garritan World Instruments Library is designed with playability and expressive control in mind. It features controls for dynamics, vibrato, keyswitched bends and tremolos, rolls, arpeggios, airflow noises, legato, auto-variability, auto-portamento, trills and more that make these samples realistic and expressive. Many of the controls in Garritan World Instruments are streamlined and standardized so that users can quickly become familiar with the library.
World Tunings
Garritan World Instruments is unique in its full support for Scala files, a standard format that allows instruments to play in various temperaments and scales. World Instruments includes many instrument and region-specific tunings, and users can also add their own.