Sole South African distributors for many musical equipment manufacturers, including AAS, Access Virus, ART, Arturia, Emes, Fatar, Garritan, Make Noise, Miditech, Moog, Radikal, Sequential, Sherman, Sontronics, Studiologic, Waldorf and many more.
We are your African connection to a wide range of sound sculpture and music creation tools, with over 33 years experience in the electronic music and equipment field.
>> Please contact us here for the latest prices and to order.
* All prices on this site include VAT.
* Prices are frequently subject to change due to the volatility of the rand's exchange rate.

Waldorf Quantum
Quantum combines the raw power of a classic digital & analog hybrid synthesizer - its 3 Oscillators offer four synthesis algorithms each:
Waldorf-style Wavetables with the latest additions from Nave, including speech synthesis and wavetable generation from audio, Classic Synthesizer Waveforms with multiple waves for an ultra fat sounds right out of the oscillators, Granular Sampler with multi sampling plus traditional sampling mode, Resonator for virtual sound sculpting.

Sequential Prophet 5
It's back! The synth that created synthesizer history.
Faithful to the original, the new Prophet-5 features five voices with two multi-waveform analog oscillators, resonant analog low-pass filters and amplifiers, and a filter and amplifier envelope per voice. All three revisions of the original filter are included.
Also available is the new Prophet-10, a ten-voice version with the same sound engine.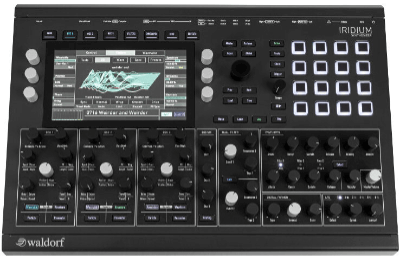 Waldorf Iridium
The mighty synth engine from Quantum is now available in a compact form.
Tracing the footsteps of its bigger brother, Iridium features all the synthesis elements of Quantum as well in a rack-compatible format. The combination of the powerful engine, incredible flexibility and detailed sound shaping facilities creates sheer endless possibilities of sound. Yet, the comprehensive layout and easy-to-understand structure lets you design your own sounds in no time. Sporting a solid metal casing and the same high level of craftsmanship like Quantum, Iridium is now ready to take over studios and stages throughout the world.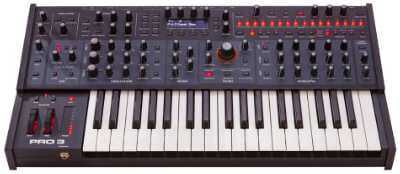 Sequential Pro 3
Multi-Filter Mono/Paraphonic Synth
The Pro 3 is a hybrid of solid, old-school analog synthesis paired with versatile digital technology. Its two voltage controlled oscillators provide warmth and presence while its third wavetable oscillator provides digital edge and grit. With 32 tables of 16 waves each and wave morphing, tonal possibilities are immense. Tuned feedback with grunge, and analog distortion deliver industrial-grade nastiness on demand.

Moog Subsequent 25
Compact two-note paraphonic analog synth
Subsequent 25 is a two-note paraphonic analog synthesizer that melds the hands-on analog soul of classic Moog instruments with the convenience and workflow of a modern sound-design machine. Moog's most compact keyboard synthesizer, the Subsequent 25 delivers all of the rich sonic density that Moog synthesizers are known for.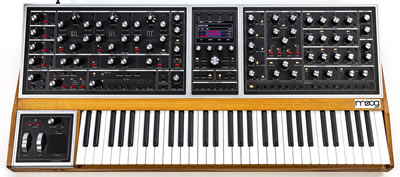 Moog One
The ultimate Moog synthesizer...
A tri-timbral, polyphonic, analogue dream-synth. The first polyphonic analog synthesizer from Moog in more than three decades, Moog One is the culmination of years of research and has been developed to exceed every expectation of a polyphonic Moog instrument.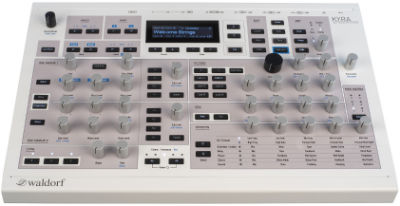 Waldorf Kyra
A powerful FPGA-based synthesizer capable of producing a large number of complex sounds simultaneously.
Beautifully designed 128 voice, 8 part multi-timbral virtual analogue synthesiser. It has 4,096 18-bit linear PCM waveforms covering a huge range of synthetic and emulated sound sources. There are accurate emulations of classic analogue ladder filters with 2-pole (12dB/octave) low pass (12dB LP), band pass (12dB BP), and high pass (12dB HP), plus 4-pole (24dB/octave) low pass (24dB LP), band pass (24dB BP), and high pass (24dB HP) configurations.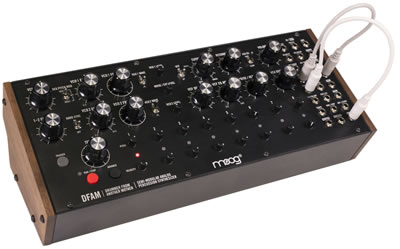 Moog DFAM (Drummer From Another Mother)
Semi-Modular Analogue Percussion Synthesizer
DFAM is the first addition to the Mother ecosystem of synthesizers and presents an expressive hands-on approach to percussive pattern creation. It requires no patching, and absolutely no experience is needed for human-beings of any age to quickly begin synthesizing new and unique rhythmic compositions.

Sequential Prophet X
Samples plus Synthesis!
Sequential Prophet X, a new, bi-timbral, 8-voice-stereo (16-voice mono) synthesizer that combines samples and synthesis. At the heart of its sound is a newly developed engine that powers two simultaneous 16-bit, 48kHz sample-based instruments plus two high-resolution digital oscillators with waveshape modulation — all processed through analog filters.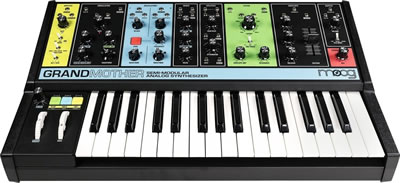 Moog Grandmother
Semi-modular analog synthesizer
Grandmother is a semi-modular analog synthesizer with a built-in arpeggiator, sequencer and spring reverb tank. Start playing immediately with "no patching required", and then explore an infinite sonic playground with Grandmother's reconfigurable front panel. Grandmother's circuits, spring reverb, and spirit are inspired by the classic Moog Modular Synthesizers, making this instrument a powerful addition to a Mother-32, DFAM or any Eurorack modular system.
Watch Adrian Younge give his personal "Thesis On Sound" while incorporating Grandmother into his retro-inspired creative workflow.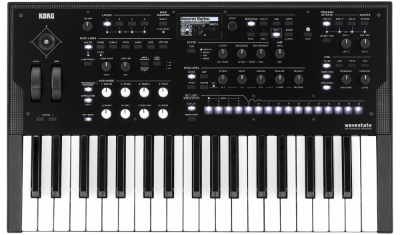 Korg Wavestate
Legendary synthesis, radically re-imagined.
KORG's legendary Wavestation introduced the world to Wave Sequencing, transforming raw samples into sounds that no-one had ever heard before.

Now, KORG is proud to announce the next step in digital synthesis: the wavestate. Featuring the radically re-imagined Wave Sequencing 2.0, the wavestate delivers astonishing, ever-changing sounds with extensive hands-on control.
Contact for price

Moog Matriarch
4-note paraphonic patchable analog synthesizer
Moog Matriarch is a patchable 4-note paraphonic analog synthesizer with a built-in Sequencer, Arpeggiator, stereo Ladder Filters, and stereo Analog Delay. Create rich evolving chord patterns immediately with "no patching required", then tap into an abundance of inspiring textures, new sounds, and an endless supply of happy accidents through Matriarch's 90 modular patch points. Based on the vintage circuitry of classic Moog synthesizer modules, Matriarch is a catalyst for creative ideas and a medium for multidimensional expression.
Moog Subsequent 37
Paraphonic analog synthesizer - the successor to the Sub 37 Tribute Edition
The Subsequent 37 is a (2-note) paraphonic analog synthesizer that builds upon the award-winning design of the ultra-powerful Sub 37 Tribute Edition. Its control panel is home to 40 knobs and 74 switches, placing a vast array of analog sound-design tools and onboard sequencing options immediately at your command. The Subsequent 37 improves upon its source through the implementation of a number of user-requested sonic and functional enhancements. Each enhancement maintains the magic and character of its predecessor while also providing access to new dimensions of sound and improved playability. Additionally, the mixer section has double the headroom of that in the Sub 37 Tribute Edition. This provides access to a new range of classic clean tones in both mono and duo performance modes.
Includes free Bitwig 8 track DAW software worth R 1,500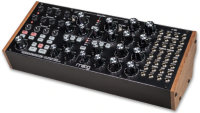 Moog Subharmonicon
Semi-modular polyrhythmic analog synthesizer
Subharmonicon is a semi-modular polyrhythmic analog synthesizer that employs a 6-tone sound engine and multi-layered clock generator to explore the world of subharmonics, polyrhythms, and the unique relationships they create.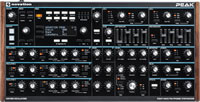 Novation Peak
Eight-voice polyphonic synthesiser
Peak sounds warm and rich with filthy, biting overdrive. It's an eight-voice desktop polyphonic synthesiser with three New Oxford Oscillators for each voice. The synth has a resonant multi-mode analogue filter for each voice, and three distortion points in an analogue signal chain.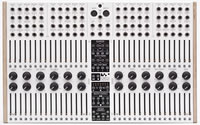 Koma Komplex Sequencer
Powerful step sequencer built around four really properly well-equipped full-featured 16-step sequencers communicating via both MIDI and CV/Gate. There are no screens or submenus – all features have their own dedicated controls and have their own dedicated in- and outputs on the large 87-point patch bay. Lastly a seven bank CV Recorder is on board and can output up to 5 banks at once!
In stock
Specials
Waldorf Rocket synth
Equipped with a powerdul Arpeggiator and a destructive Booster circuit, analog multimode VCF with lowpass, bandpass and highpass...
ART Tube Opto 8
8 channel Mic Preamp with ADAT
Eight high quality second generation discrete Class-A vacuum tube microphone preamps are packaged in a single rack space unit with eight channel 24-bit digital I/O.
Yorkville YSM5
Powered studio monitors
R 3,997 (pair)

New and Featured