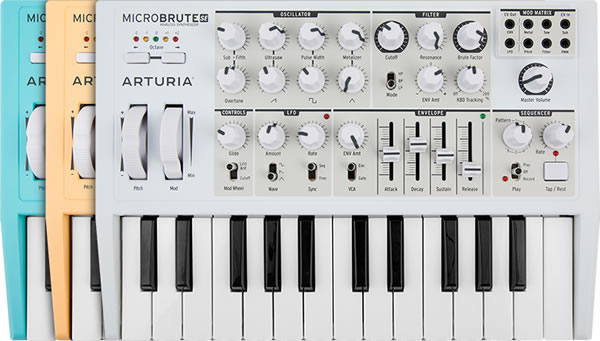 Looks Tiny, Sounds Massive
MicroBrute SE synthesizer is a limited edition of a pure analogue sonic powerhouse . Small in size but loaded with features.
Packed with mixable waveforms, a new sub oscillator design, the famous Steiner-Parker multimode filter, super fast envelope, syncable LFO and the new step sequencer, not to mention the patchable mod matrix the MicroBrute SE is a landmark new synth at an incredible price.
This special edition is produced in limited quantity, 1500 units for each color, so make sure you don't miss out!!
Pure Analogue
The MicroBrute SE is new but carries the award-winning heritage of its big brother, the MiniBrute.
The MicroBrute SE was designed to be small but still retain an amazing sound quality. With a 100% pure analogue voice path and advanced interconnectability via MIDI, USB, CV/ GATE, this machine is a true powerhouse synthesizer that takes your sound to a new level.
Hands-On Heaven
If you're new to synths, you're looking at one of the easiest to use and most unique sounding synthesizers we think money can buy. And if you're a synth veteran, we think it won't have escaped your attention that MicroBrute SE is also a seriously capable semi-modular sequence-able beast. Wait till you hear how it sounds.
No presets, no menus, nothing to get between you and the ability to sculpt your sound live. Not only does MicroBrute SE give you the means to create, perform and be completely original every time you power up, it does it with astounding sound quality.
Brutal Potential
Process audio. Sequence analogue gear. Give your modular a new LFO and Envelope Generator. Hook up to your DAW and make whole tracks. Hook up to your Drumtracks, open your door, and play a whole gig.
Main features:
Monophonic synthesizer
100% Analogue Audio Signal Path
Steiner-Parker 2 pole Multimode Filter (Low Pass, Band Pass, High Pass)
Analogue Voltage Controlled Oscillator
Oscillator Mixer (Overtone, Sawtooth, Square, Triangle, audio in (on rear panel))
'Overtone' sub oscillator/5th generator
Signal Enhancers :

Pulse Width Modulation
Ultrasaw generating fat sawtooth waveforms
Metalizer bringing extreme harmonics

Brute Factor™ delivering saturation and rich harmonics
LFO with 3 waveforms (Sine, Sawtooth, Square)
LFO clock syncable to Arpeggiator (Arpeg, or free)
ADSR Envelope Generator
Keyboard Tracking on the VCF Cutoff
25 note minikey keyboard
Mod Wheel (assignable to Cutoff, or LFO amount)
Pitch Wheel (with selectable bend range via software)
Octave selector from -2 to +2 octaves
External Analogue Audio Input
CV In jacks: Pitch, Filter, sub-harmonics, pulse width, metalizer, saw animator
CV Out jacks: pitch, envelope, LFO
MIDI In with 5 pin DIN connector
USB MIDI In/Out
1/4" Audio Output and 1/8" Headphone Output
Full Function step sequencer:

8 memories
up to 64 steps per memory
tap tempo
rate control
step divisions (via software)
trigger modes (via software)

MIDI Sync
Steel bottom panel
12V DC 1A power supply