Sole South African distributors for many musical equipment manufacturers, including AAS, Access Virus, ART, Arturia, Emes, Fatar, Garritan, Make Noise, Miditech, Moog, Radikal, Sequential, Seydel, Sherman, Sontronics, Studiologic, Tech 21, Waldorf and many more.
We are your African connection to a wide range of sound sculpture and music creation tools, with over 33 years experience in the electronic music and equipment field.
>> Please contact us here for the latest prices and to order.
* All prices on this site include VAT.
* Prices are frequently subject to change due to the volatility of the rand's exchange rate.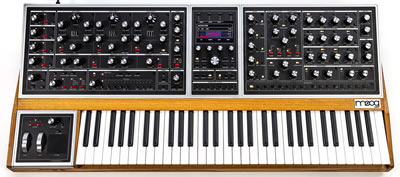 Moog One
The ultimate Moog synthesizer...
A tri-timbral, polyphonic, analogue dream-synth. The first polyphonic analog synthesizer from Moog in more than three decades, Moog One is the culmination of years of research and has been developed to exceed every expectation of a polyphonic Moog instrument.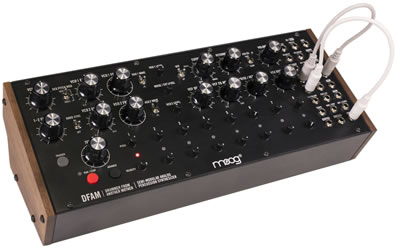 Moog DFAM (Drummer From Another Mother)
Semi-Modular Analogue Percussion Synthesizer
DFAM is the first addition to the Mother ecosystem of synthesizers and presents an expressive hands-on approach to percussive pattern creation. It requires no patching, and absolutely no experience is needed for human-beings of any age to quickly begin synthesizing new and unique rhythmic compositions.

Sequential Prophet X
Samples plus Synthesis!
Sequential Prophet X, a new, bi-timbral, 8-voice-stereo (16-voice mono) synthesizer that combines samples and synthesis. At the heart of its sound is a newly developed engine that powers two simultaneous 16-bit, 48kHz sample-based instruments plus two high-resolution digital oscillators with waveshape modulation — all processed through analog filters.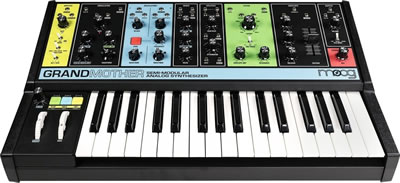 Moog Grandmother
Semi-modular analog synthesizer
Grandmother is a semi-modular analog synthesizer with a built-in arpeggiator, sequencer and spring reverb tank. Start playing immediately with "no patching required", and then explore an infinite sonic playground with Grandmother's reconfigurable front panel. Grandmother's circuits, spring reverb, and spirit are inspired by the classic Moog Modular Synthesizers, making this instrument a powerful addition to a Mother-32, DFAM or any Eurorack modular system.
Watch Adrian Younge give his personal "Thesis On Sound" while incorporating Grandmother into his retro-inspired creative workflow.
Moog Sub 37 Subsequent CV
Limited edition version with CV and Gate outs
Includes free Bitwig 8 track DAW software worth R 1,500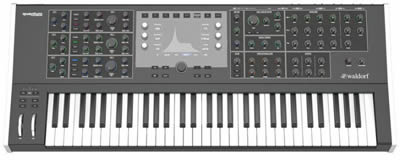 Waldorf Quantum
Quantum combines the raw power of a classic digital & analog hybrid synthesizer - its 3 Oscillators offer four synthesis algorithms each:
Waldorf-style Wavetables with the latest additions from Nave, including speech synthesis and wavetable generation from audio, Classic Synthesizer Waveforms with multiple waves for an ultra fat sounds right out of the oscillators, Granular Sampler with multi sampling plus traditional sampling mode, Resonator for virtual sound sculpting.

Waldorf Zarenbourg
Traditional electric stage piano with a modern twist.
Featuring Physical Modelled E-Piano Sounds, Sample Playback for Pianos and user content, True FM synthesis, 76 keys weighted hammer action keyboard, Three way active monitor system by EMES.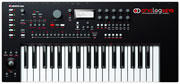 Elektron Analog Keys
4 voice analogue performance synthesizer with a beautifully responsive keyboard, plus a flexible sequencer.
The Analog Keys cries out to be played. It is a mighty analog synthesizer capable of incredibly expressive sounds. It is built for the stage. And you can make it the heart of your whole setup.
Includes free Bitwig 8 track DAW software worth R 1,500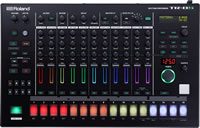 Roland TR-8S
Born of the most famous and influential drum machines ever made, the TR-8S combines the best of its Roland heritage with modern production techniques and professional sound design. Build your dream kit from the most iconic drum sounds of all time, plus the finest selection of samples from our vast library—or import your own custom samples.
And it doesn't just excel in the studio - the TR-8S was literally made to play live.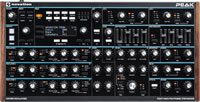 Novation Peak
Eight-voice polyphonic synthesiser
Peak sounds warm and rich with filthy, biting overdrive. It's an eight-voice desktop polyphonic synthesiser with three New Oxford Oscillators for each voice. The synth has a resonant multi-mode analogue filter for each voice, and three distortion points in an analogue signal chain.
Koma Komplex Sequencer
Powerful step sequencer built around four really properly well-equipped full-featured 16-step sequencers communicating via both MIDI and CV/Gate. There are no screens or submenus – all features have their own dedicated controls and have their own dedicated in- and outputs on the large 87-point patch bay. Lastly a seven bank CV Recorder is on board and can output up to 5 banks at once! The Komplex Sequencer opens up a whole new world of creative possibilities and starts where other sequencers have stopped!
In stock
Specials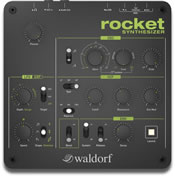 Waldorf Rocket synth
Equipped with a powerdul Arpeggiator and a destructive Booster circuit, analog multimode VCF with lowpass, bandpass and highpass...
Yorkville YSM5
Powered studio monitors
R 3,997 (pair)

Richie Kotzen Signature RK5 Fly Rig
Multi-Effects Pedal
R 5,697

New and Featured