Seydel Hardware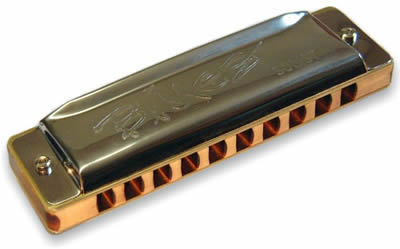 Key: C
Diatonic harp with laser cutted body and half-flat chrome covers
The Solist Pro has the following features:
brass reedplates optimized for loudness and extreme airtightness
Reeds specially set for best response
half-flat covers for brilliant sound
wooden body, multiple coats of sealant for a resistant finish
The Solist Pro is a new development with unique features:
The wooden body is ground in two planes around the mouthpiece, so that the hole openings have an oval shape. At the same time, the front fits better to the lips, so that airloss becomes less.
With careful rounding of the dividers at the hole entrances, the kind of lip care is achieved that is usually only possible with plastic. This is additionally supported by the full sealing of the comb.
The surface left naturally after the grinding process provides a very self-contained design, distinctive and identically with the region our harmonicas are made.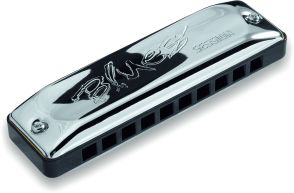 Key: C
Diatonic Harp with plastic comb
If you start as a beginner, then you should be aware, that this is the mother of all tunings, the so called 'Richter-Tuning'. The ingenious finding of the 'Diatonic Harmonica' is the work of this man.
Richter is said to be a descendent from the Bohemian area east of Klingenthal from a town called 'Haida'.
It's not really proven, however it's fact, that the 'Richter Harmonica' is only called 'Haidaer' by our employees since the beginning of the production more than one hundred years ago.
All this shouldn't bother you when starting to play harmonica. The only important thing is, that you cannot fail completely when you start the adventure playing harmonica with this tuning.
Almost every great player has begun with it. With the emphasis on blow notes you start to play folk music within five minutes, if you take the draw you start to dive into the magic of Blues and Rock'n Roll, the musical style this product line is named after.
A convenient leather pocket is included!
This Harp is part of our Blues Beginner Pack.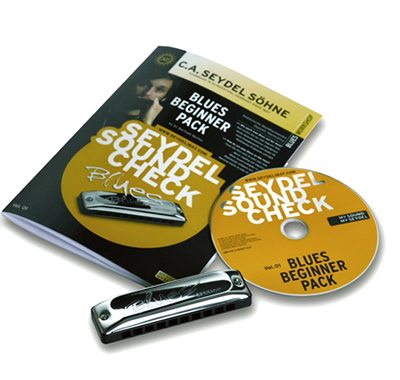 Soundcheck Vol. 1 - Blues Beginner Pack
1 x Blues Session Harmonica in C & introductory booklet & Audio-CD & Multimedia-Program
from the first note to your own solo
music reading not required
many sound examples on CD
multimedia software and mp3s
backing tracks to play along with
This workshop delivers the core knowledge of experienced harmonica players in a condensed format, presented in an educational and fresh style. All necessary topics are covered.
Play music without reading the notes. Learn also on the computer - the workshop is additionally provided through easy-to-use multimedia-software on CD.
This guide will give you those tips and 'eureka' moments a beginner harmonica player would otherwise need a long time to discover.