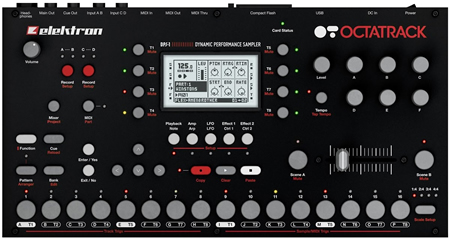 Octatrack is designed to revolutionize the concept of sampling. Never before has so much potential been offered by just one machine.
The Octatrack is an 8 track performance sampler. Recording of sounds is a breeze thanks to the intuitive user interface, but the fun really starts once the samples are inside the machine. All audio content can be heavily processed and radically transformed. Loops do not have to be restricted by tempo or tone and can always stay in sync no matter if they are pitch shifted or if the tempo of the sequencer is changed. The inflexible nature of samples is finally a thing of the past.
Instant Sampling & Remixing
Radical Audio Manipulation Possibilities
Real-time Pitch Scaling and Time Stretch
Next Generation Elektron Step Sequencer
Dual Assignable FX Per Track
Assignable Multi-Parameter Crossfader
The Octatrack offers a variety of machines, each designed to fill a specific function. The machines can be assigned to the eight available tracks in any combination.
Flex machines offer the most extensive sound manipulation possibilities. A sample used within a Flex machine is loaded to the RAM memory of the Octatrack. From there it can be twisted, stretched, warbled and reassembled in multiple ways. Flex machines are unbeatable sound processors.
Thru machines do not sample or play back sounds. Instead they let the Octatrack affect incoming audio with the dual FX blocks. They are very handy in live setups.
Static machines are the perfect tool for handling extremely large samples. Samples assigned to Static machines are streamed from the Compact Flash card, thus their size can be in the order of gigabytes. Of course you can time stretch and pitch scale them as needed.
Neighbour machines listen to the output of the preceding track. Multiple tracks with Neighbour machines can form extremely powerful effects chains. They can turn the Octatrack into a deluxe effects device.
The Sequencer
8 internal tracks
16 banks per project
256 patterns per project
8 arrangements per project
4 parts per bank
16 scenes per part
Supports swing and slide
Micro timing
Parameter locks
Sample locks
Full real-time control
8 track external MIDI sequencer
Track Effects
12/24dB Multi Mode Filter
2-band Parametric EQ
DJ-style Kill EQ
2-10 Stage Phaser
Flanger
2-5 tap Chorus
Echo Freeze Delay
Gatebox Plate Reverb
Compressor
Lo-Fi (SRR, BRR, Dist and A.M.)
Hardware
128x64 pixel backlit LCD
MIDI In/Out/Thru
4 × 1/4″ impedance balanced audio out jacks
4 × 1/4″ audio in jacks
1 × 1/4″ stereo headphone jack
Advanced triple DSP system
44.1kHz, 24-bit D/A and A/D converters
Flash-EEPROM upgradable OS
USB 2.0 port
Compact Flash card reader
Infinium optical crossfader
80 MB Flex RAM per project
Static sample streaming from CF card
Balanced Audio Outputs
Headphones out level: +15dBu
Main/cue outputs level: +10dBu
Output impedance: 550 Ω unbalanced
S/N ratio: 102dBFS (20-20.000Hz)
Electrical Specifications
Unit power consumption: 8W typical, 18W maximum.
Recommended power supply: 6V DC, 3
Physical Specifications
Sturdy steel chassis
Dimensions: W340×D181×H63mm (13.4×7×2.4″) (including, audio outputs, knobs and rubber feet)
Weight: approximately 2.4 kg (5.2 lbs)
Miscellaneous
4 GB high speed compact flash card included
2 GB of Loopmasters samples on the CF card
USB cable included
Printed User's manual included