Software
The V2 Collection brings you the most legendary and sought after synthesizers ever in one very affordable package. This ultimate edition is the complete solution when high quality, authentic and modern synthesizer sounds are demanded. The luxury box contains the highly awarded Minimoog V, Moog Modular V, CS-80V, ARP2600 V, Prophet V and Prophet VS. On top of that we have added the brand new Jupiter-8V to make the package even more complete.
With this collection of synthesizers you will be able to create virtually every imaginable synthesizer sound with the true characteristics of their very rare and expensive predecessors. The V2 Collection is available at an irresistible price...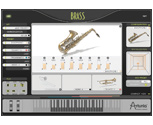 BRASS 2.0 is a new kind of virtual instrument based on a physical modeling technology. It emulates a Trumpet, a Trombone and a Saxophone. All the characteristics of the real instruments have been analyzed and modeled through extensive research at world-renowned IRCAM institute. Arturia has partnered with this highly skilled team of researchers to bring this groundbreaking technology to the musician, in the form of a software instrument. BRASS is an extremely expressive, flexible and controllable instrument, and thus a fantastic alternative to loops or music libraries.
Price: Special Offer!